Avalanche Ski – Metal diagonal shelf for toilet paper rolls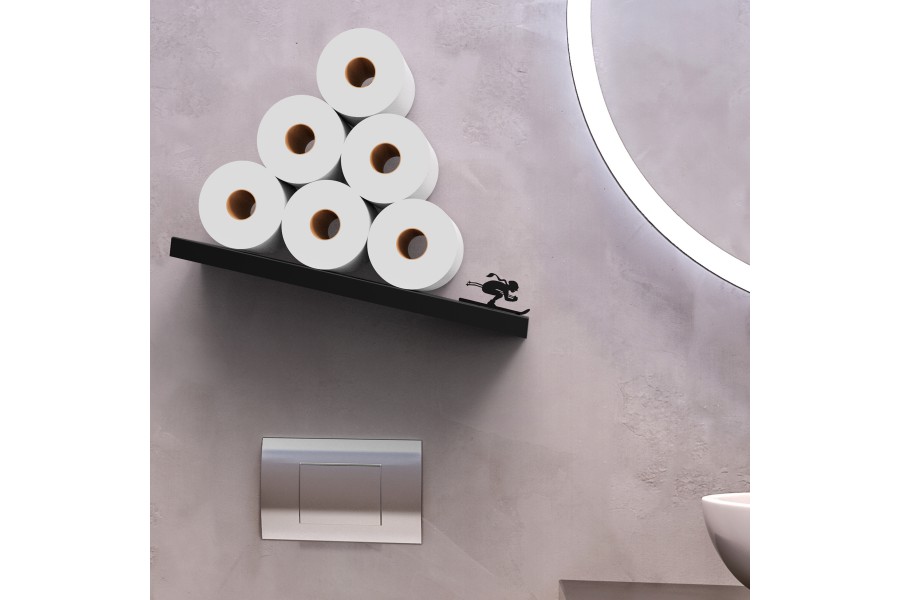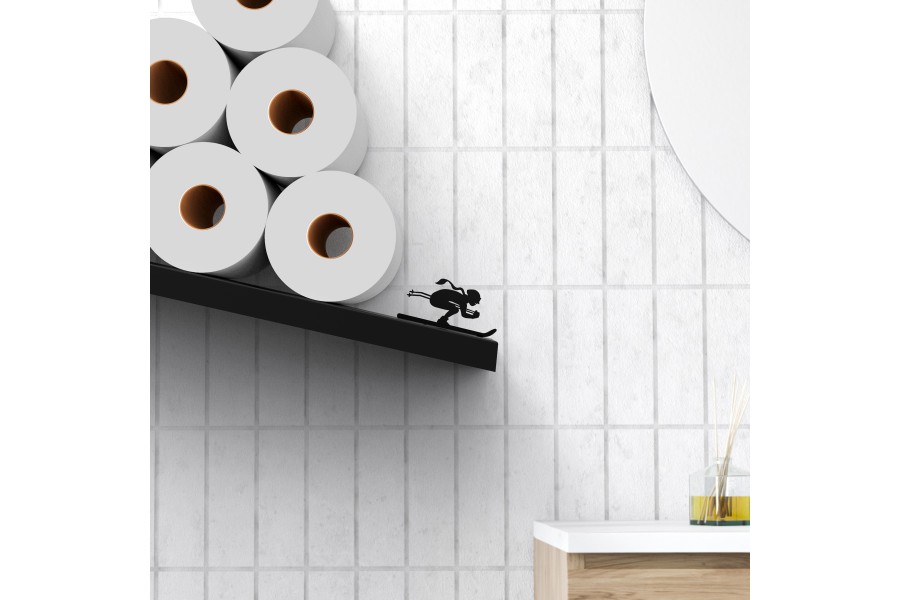 The Elephant in the (bath)room
AD409, EAN 7290013682390
In stock
Avalanche Ski – Metal diagonal black shelf. Toilet paper roll storage for the bathroom
Ahh, skiing… gliding down slopes, cold air against your face, still whiteness all around and.. an avalanche! but one that isn't going to disturb your peace.
Time to think about your skiing skills while sitting on your porcelain throne.
Wall mount decorated shelf for your bathroom decor.
Standard screws and anchors are included.
Made of metal, Color: Black.
Size: 17.7X4X1(in), 45X10.2X2.5(cm).
Weight: 1.2 lbs (550 gr).
Fits up to 6 rolls/cylinders and can hold a maximum weight of 4.4 lbs (2 kg).
Mounting directions:
Use the supplied screws for secure and stable mounting.
Attach the figure using the supplied nut and bolt.
Mount at any angle between 7-30 to keep rolls in place.
Use drill bit #6 to drill the holes in the wall.
Notice:
Don't forget to remove the Stopper from the back of the last
toilet paper roll before using it. Keep the Stopper safe until you
restock and reactivate the avalanche.
| | |
| --- | --- |
| Weight | 0.7 kg |
| Dimensions | 45 × 10.5 × 2.5 cm |
| Color | Black |
| Material type | Electrostatically painted metal (powder paint in the oven) is durable and high quality over time., For your convenience, the product is supplied with screws and Wall plug |
| Case type | The product comes in a designed gift package. |
| SKU: | AD406 |
שליח עד הבית - בעלות של 29 ש"ח, זמן אספקה 1-2 ימי עסקים שליח עד הבית חינם בקנייה מעל 250 ש"ח איסוף עצמי - ללא תשלום - בתיאום מראש, הרדוף 19, רמת השרון.
Delivery